Laundry – the never ending task! Seems like no matter how many times we try to get caught up, the pile of laundry just keeps multiplying!
What if you had an area that would keep all your laundry and the supplies organized? And even if you had laundry, there would be a spot to keep it all.
As part of the Brilliant HE Clean Ideas Bloggers, we were challenged to create a solution for our Laundry Room. Jenny Komenda shares her top 6
tips for Laundry Room Redesign
, like Tip #4 - "A rolling laundry butler can be your best friend, doing triple duty with a hanging bar, a rolling basket and a drying rack."
We took the rolling laundry butler a step further and created an organizing station that holds laundry baskets and a place on top to hold soap, stain remover and dryer sheets and created a Mobile Laundry Station.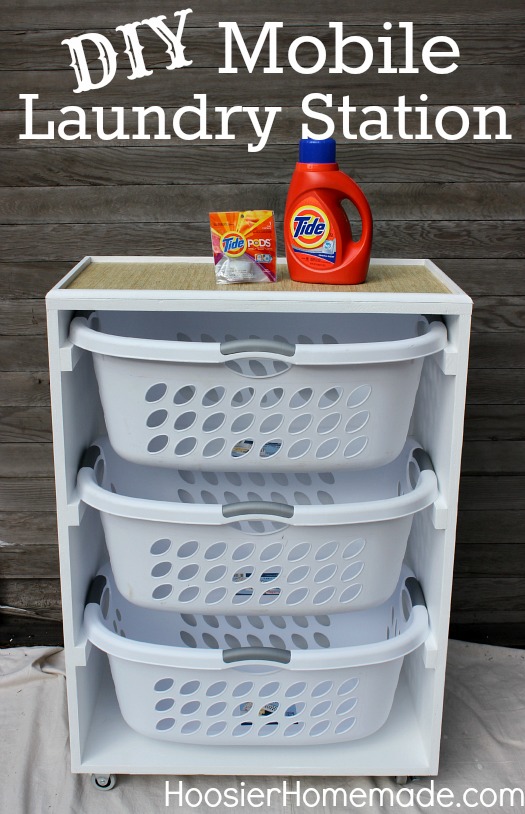 Isn't she a beauty? Doug did a fantastic job on it. But it's actually not for me – I will have to confess, I don't do the laundry in our house. Yes, I'm very lucky to have my hubby do our laundry.
To get you started on your own Laundry Room project, Tide, Maytag and The Home Depot have teamed up to bring you an AMAZING Giveaway!
Enter to win a $500 Home Depot Gift Card! Yes – you heard that right! One lucky Hoosier Homemade reader will win! So ENTER!
We have lots to show you how to build this Mobile Laundry Station – so let's get busy…
First let's gather our supplies -
Mobile Laundry Station Supply List
4 x 8 foot sheet – 3/4 inch plywood

2 – 6 foot 1 x 2 inch pine boards
4 x 4 foot sheet – 1/4 inch plywood
8 foot – 1/2 inch x 3/4 inch shoe molding
2 – 2 inch medium duty swivel casters with brake
2 – 2 inch medium duty rigid casters
Deck screws - 8 gauge by 1 1/4 inch
Wood screws – 8 gauge by 3/4 inch
Wood Glue
Primer
Paint
Shelf Liner
Cut List
The measurements will depend greatly on the size of your laundry basket. We used 1.25 bushel Sterilite brand. It's best to have the employees at The Home Depot cut the 3/4 inch plywood into 15 1/2 inch width pieces for you.
For the box – 3/4 inch plywood
1 – 15 1/2 inch x 26 inch (top)

1 – 15 1/2 inch x 27 inch (bottom)
2 – 15 1/2 inch x 36 inch (sides)
For the back – 1/4 inch plywood
27 3/8 inch x 35 3/4 inch
For the rails – 1×2 inch pine boards – the rails will be attached to each side once the box is built, at 10 inches from the bottom, then 21 inches from the bottom and 32 inches from the bottom. Spacing will depend on the size of your laundry basket.
For the top – Shoe Molding (ends cut at 45 degree angles)
2 – 27 1/2 inch pieces

2 – 15 1/2 inch pieces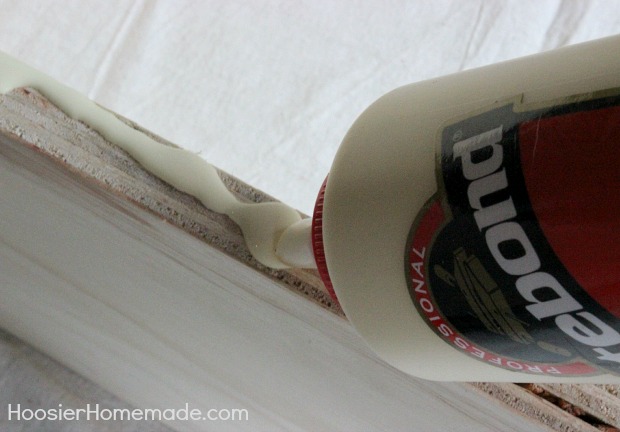 The construction is a simple box, with 1×2 inch pieces of wood to hold the laundry baskets. After cutting the pieces of wood, it's best to apply wood glue to the joints before screwing them together.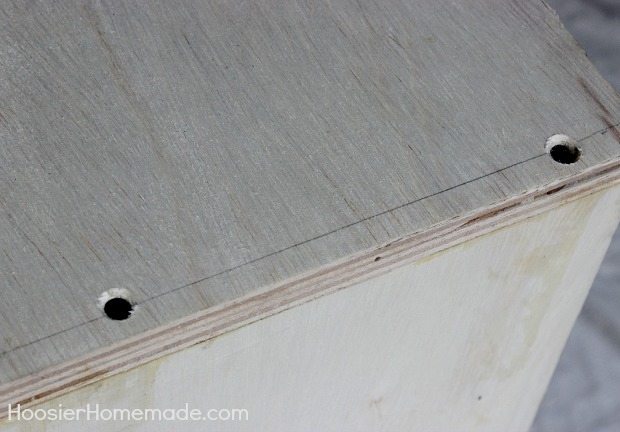 Pre-drill the screw holes with a small drill bit and countersink the holes for a clean finish. After glue is set and prior to painting, cover the screw heads with wood putty.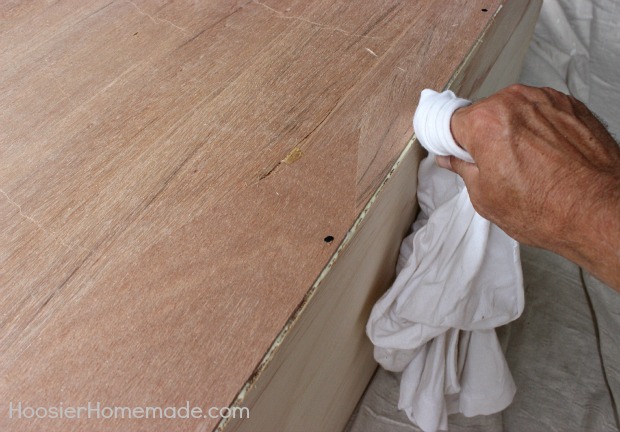 After you have built the sides of the box and attached the back, make sure to clean up any wood glue that has squeezed out of the joints with a clean wet rag.
Now it's time to build the rails that will hold the laundry baskets. Attach the rails to the inside of the box, use the supply list as a guide for spacing the rails. Use a clamp to help hold the rails in place while you glue and screw them to the side. Leave the clamps on until the glue has dried.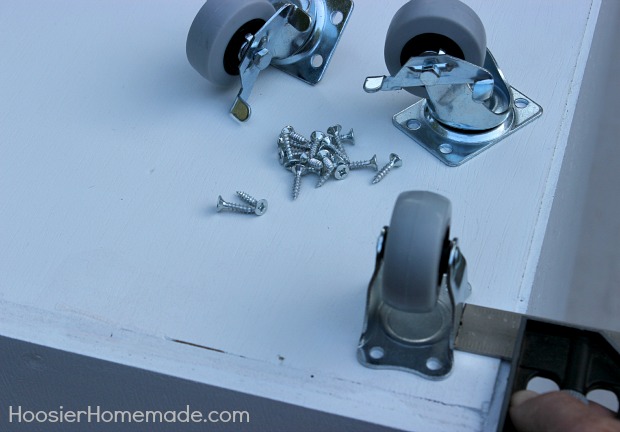 After the laundry station has been primed and painted, you can add wheels to the bottom if you like. Space the wheels 1 inch in from the corners.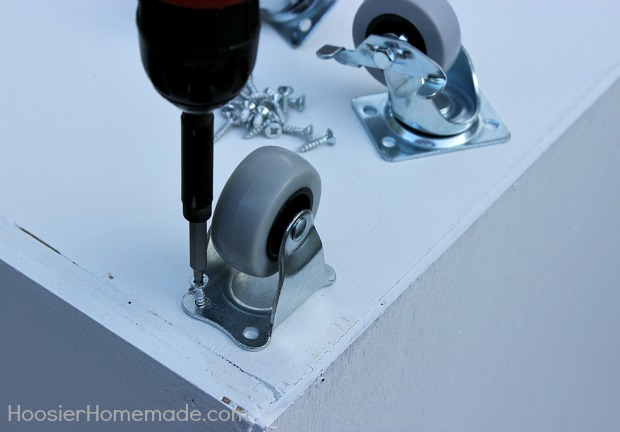 And attach them with the 3/4 inch wood screws.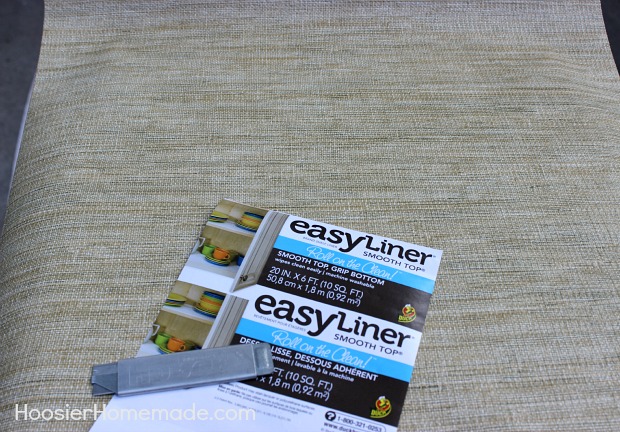 To make clean up easy, we added shelf liner to the top. This Duck Brand easy liner is sold in a roll and can be cut to fit the top. Secure with staples around the outer edge.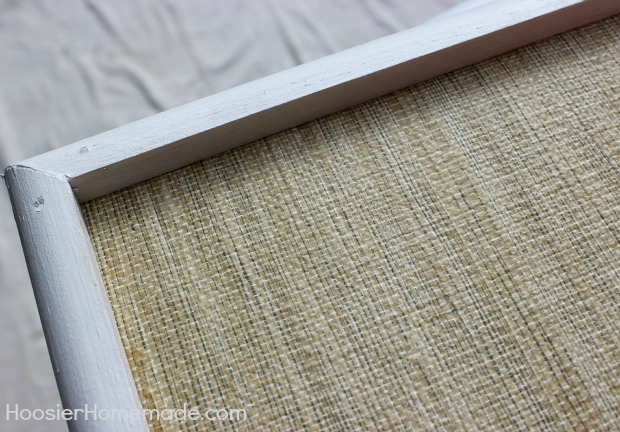 To finish the top, attach wood trim around the edge with finishing nails. This trim can also be glued, but we chose to nail it so it could be removed if the liner needed to be replaced.